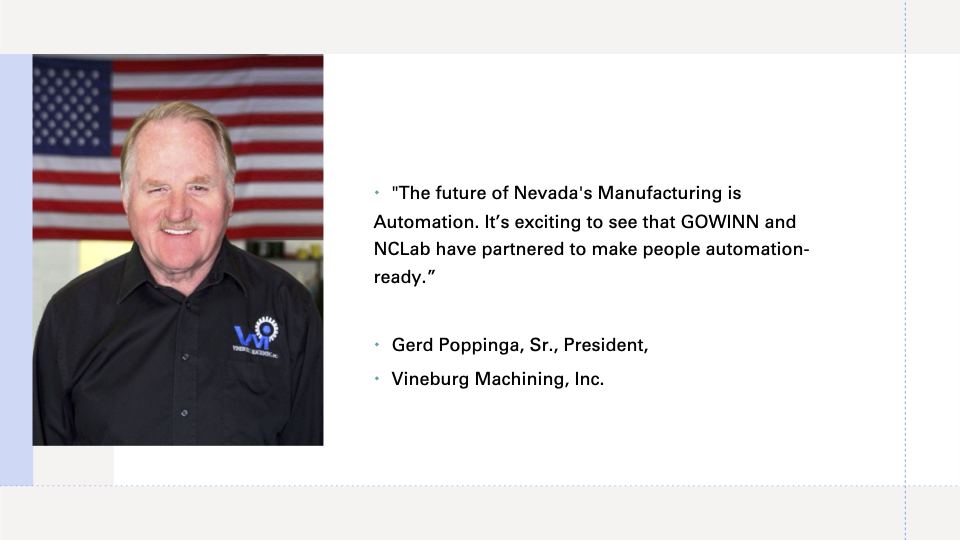 Program Success Elements
Acquire high-demand 21st century automation skills;
Learn skills that employers look for specifically in their recruiting efforts;
Receive individualized instructional support and coaching throughout your training;
Learn actively, by doing rather than by listening to lectures;
Never miss training sessions because of family and work responsibilities;
Get a great job when you graduate, or maybe even before.
Acquire Automation Skills And Catch Nevada Manufacturing's Automation Wave!
Are you in a job without a clear growth path and finding yourself unprepared to take advantage of 21st century high-growth job opportunities? If so, this training can change your life for the better.
Nevada's manufacturing is booming and the SANDI grant is here to help you step up into a high-growth career in manufacturing.
Learn foundational automation hard skills that include workplace math, working with data, computer programming, and 3D spatial skills; they are the skills that manufacturers want new hires to have.
Learn foundational soft skills that include professional communication, time management, critical and logical thinking, problem solving, perseverance, and adaptability, among others.
When you graduate from this training, Nevada manufacturers will be queued to interview you.
If you are wanting more than a job, this career training is for you.
Frequently Asked Questions
How much of a need is there in Nevada manufacturing for people with automation skills?
There is a huge need for employees with automation skills throughout Nevada. In fact, manufacturers with job openings are queueing up to interview our graduates.
What happens when I complete my training?
Upon successful completion of this training, you'll have foundational automation and soft skills that Nevada manufacturers look for specifically in their recruiting efforts. Better yet, manufacturers with job openings will be queued up to interview you.
What happens if my job or family responsibilities interfere with my training?
Because the training is self-paced, the only effect that responsibilities will have is that they will extend the time required for you to complete your training but you'll never miss training sessions because of family and work responsibilities.
I want to know more about this program — what should I do?
Click the Details tab to see additional details about the program.
Click the Learn-By-Doing tab to learn how training is done.
Click the Pricing tab to learn how the program is priced.
Click the Apply tab to learn about our admission process.
Finally, click the NCLab tab to learn about NCLab, the vocational training company behind this training program.
More Information
To get all your questions answered, Schedule a Call , fill in the form below, or simply use the CHAT BOX at the bottom right of this screen.
Please Share This
If you have friends who would like to catch Nevada Manufacturing's automation wave and are willing to put in the needed effort, please use the Social Media bar on your screen to share this information with them. Many of our graduates are so grateful that their friends made them aware of our programs because it changed their lives for the better.
What Our Trainees Say About Us
"This is how I like to learn, at my own pace. I like the bite-sized tutorials and I feel a real sense of accomplishment when I complete the exercises that follow them." M.J.
"I cannot compliment enough any training that involves students actually working on the problems rather than just listening." A. S.
"Please extend my compliments to the NCLab team if you can, and keep advocating for this type of learning, if at the very least as an option for people like me who learn well this way." F. A.
"The emphasis on working at your own pace removes the stress of a normal class, and I can work around my other classes. NCLab is much better than similar programs, such as DataCamp. Not only do I learn the material, I retain it. Each lesson uses all or most of the previous concepts, which provides additional practice and ensures that you don't forget the previous material. This is one of the most enjoyable and informative programs I've taken." N. L.
Accelerate your career and create a better life ahead.
Get-In-Touch