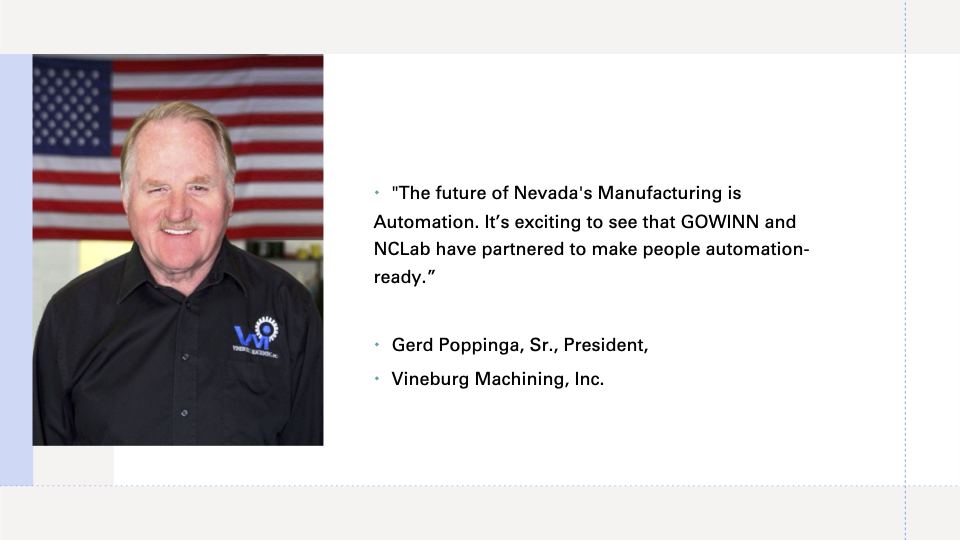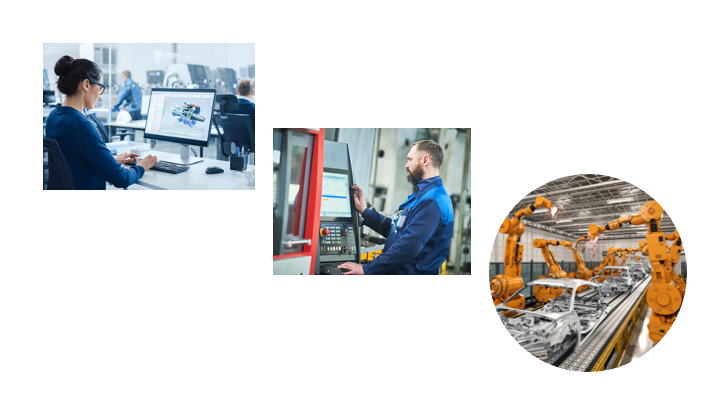 Program Success Elements
Get on a growth-oriented career track in as little as 2 months;
Learn skills that employers look for specifically in their recruiting efforts;

Get an Automation Technician Career Certificate;

Receive individualized instructional support and coaching throughout your training;
Learn actively, by doing rather than by listening to lectures;
Never miss training sessions because of family and work responsibilities;
Get a great job when you graduate, or maybe even before.
Acquire Industry 4.0 Skills And Catch Nevada Manufacturing's Automation Wave!
In as little as 2 months, you'll master hard skills that include workplace math, working with data, machine programming (and Introduction to CNC, Introduction to CAD, and blueprint reading, as electives), independent of your formal level of education; they are the skills that manufacturers want new hires to have.
You'll also learn foundational soft skills that include, among others, problem solving, critical and logical thinking, perseverance, professional communication, time management, and adaptability that manufacturers put large value on.
When you graduate from this training, Nevada manufacturers that have queued up will be wanting to interview you.
Our Training Is Transformational.
Our training doesn't consist of a set of lectures followed by unassisted work assignments, as is the case with other online training programs.
Instead, our proprietary Artificial Intelligence-based training platform delivers you bite-sized knowledge that is immediately followed by assisted hands-on exercises, during which it watches your every step, grading your exercises in real-time, and helping you with contextual information, hints, and templates, as needed. 
To ensure your success, you'll be provided an assessment before you enroll to confirm that this program is right for you and, once you enroll, you'll be assigned coaching and instructional support personnel who will:
Meet with you weekly to review your progress;
Teach you soft skills that you will use throughout your career;
Be available to you, as needed, throughout your training.
If you are wanting more than a job, this career training is for you.
Frequently Asked Questions
Is there a need  for people with automation skills in Nevada manufacturing?
There is a huge need for employees with automation-related skills throughout Nevada's manufacturing sector. In fact, manufacturers with job openings are queued up to interview our graduates.
The latest 2021 report by the Manufacturing Institute and Deloitte estimates that there will be 2.1 million jobs that will go unfilled over the next ten years because of the lack of automation-related skills in the labor force.
What happens when I complete my training?
Upon successful completion of the training, you'll have the knowledge, practical experience, competency, and confidence to start your new career as an Automation Technician. You'll have in hand an Automation Technician Career Certificate. You'll also be fully prepared to pass widely recognized certifications, including ACT's Workkeys NCRC (National Career Readiness Certificate) and TOSA, and employers who have queued up will be wanting to interview you.
Who is this "New Career On-Ramp" Training for?
This training program is for you, if you are wanting to have a better life and are willing to put in the effort to do the required work to get there, independent of your level of formal education. While other training programs expect individuals to have a strong math background, prior programming experience, and/or a certain level of formal education, this training program incorporates foundational training for people who need to start there, at no extra cost.
We have a powerful free self-assessment tool that helps you determine whether you're a natural to catch Nevada Manufacturing's automation wave, using this training program.  Click Here to learn more about the self-assessment.
What happens if my job or family responsibilities interfere with my training?
Because the training is self-paced, the only effect that responsibilities will have is that they will extend the time it'll require you to complete your training but you'll never miss training sessions because of family or work responsibilities.
What kind of support will I receive?
At NCLab, you will receive more personal attention than with any other training provider. You won't be working at home alone after an in-person or video-lecture has ended. It's your journey, but we will walk together.
I want to know more about this program — what should I do?
Click the Details tab to see additional details about the program.
Click the Learn-By-Doing tab to understand how we will prepare you to get a manufacturing 21st century career.
Click the Pricing tab to learn how the program is priced.
Click the Apply tab to learn about our admission process.
Click the NCLab tab to learn about NCLab, the vocational training company behind this training program.
Click Here to register to attend a virtual information event, where you will learn more about this initiative.
… or fill the form below to receive a copy of the recording of one of the information events.
More Information
To get all your questions answered, Schedule a Call , fill in the form below, or simply use the CHAT BOX at the bottom right of this screen.
What Our Trainees Say About Us
To hear people describe their feelings about NCLab's training approach, Please Click Here.
Please Share This
If you have friends who would like to catch Nevada Manufacturing's automation wave and are willing to put in the needed effort, please use the Social Media bar on your screen to share this information with them. Many of our graduates are so grateful that their friends made them aware of our programs because it changed their lives for the better.
Accelerate your career and create a better life ahead.
Get-In-Touch