At NCLab, We Believe That The Only Way To Learn Is By Doing
NCLab's college-level Learn-By-Doing training is perfectly suited for STEM career training because it provides students with both the in-depth knowledge and the practical experience needed to qualify for available jobs. That is very different than traditional education that leaves students without the necessary practical experience to qualify for available jobs.
As shown in the following figure, NCLab is unique in the education world in the way it provides students with both knowledge and practical experience.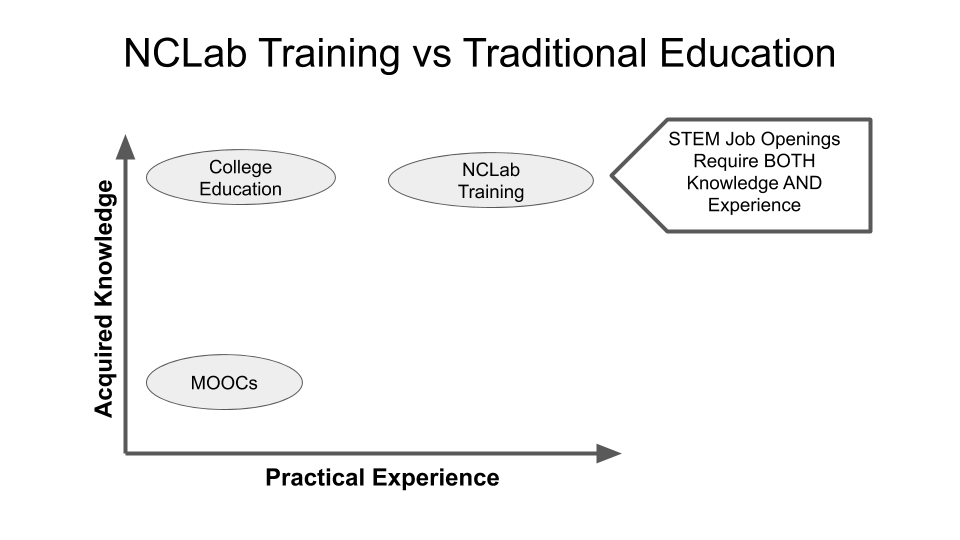 The following are five key components of the NCLab's Learn-by-doing training platform that make it very different than other training platforms:
Bite-Sized Tutoring With Confirmation Of Absorption
NCLab training is done in a highly interactive learn-by-doing manner. The absorption and grasp of bite-sized material is confirmed by ongoing practice-based exercises throughout the training process. Success is assured if the student is willing to put in the effort to do the required work.
An AI-based Progress Monitor That Provides Real-Time Feedback And Guidance
Ongoing exercises throughout the learning process allow students to learn by doing and see the results of their problem solving on an immediate basis. NCLab's AI-based Progress Monitor watches student progress and provides students with sophisticated adaptive feedback and guidance when they need help.
Verified Learning That Confirms The Mastering Of Skills
A built-in Verified Learning system records all student learning activities and confirms that students have thoroughly learned the subject matter and have done sufficient practical exercises to qualify for STEM job openings. It is also an ideal tool to help support personnel understand where students are when they need assistance and to help course development identify places where the courses can be improved.
A Development Sandbox That Allows Experimentation With Acquired Knowledge 
NCLab's training platform includes a very powerful development sandbox environment, complete with populated databases and file systems for each student's use. In it, students can create their own problem sets and work through them to come up with solutions and save their results for later retrieval and use.  
Subject-Matter Experts Who Provide Support Throughout The Learning Process
Students are never alone in their learning. At any time, they can interact with subject-matter experts to get assistance. Support personnel are immediately cognizant of the progress of the student and where they are having difficulty and can quickly help. All support activities feed back into the course development process for the continuous improvement of courses.


A Visual Tour of NCLab's Training Platform