We Provide The Practical Experience That Well Over 95% Of Job Openings Require.
In much the same way that people learn to drive cars by getting behind the wheel during their training, Data Analysts and Python Developers need to practice what they learn during their training. We are not aware of any other career training program that incorporates Practical Experience in its program.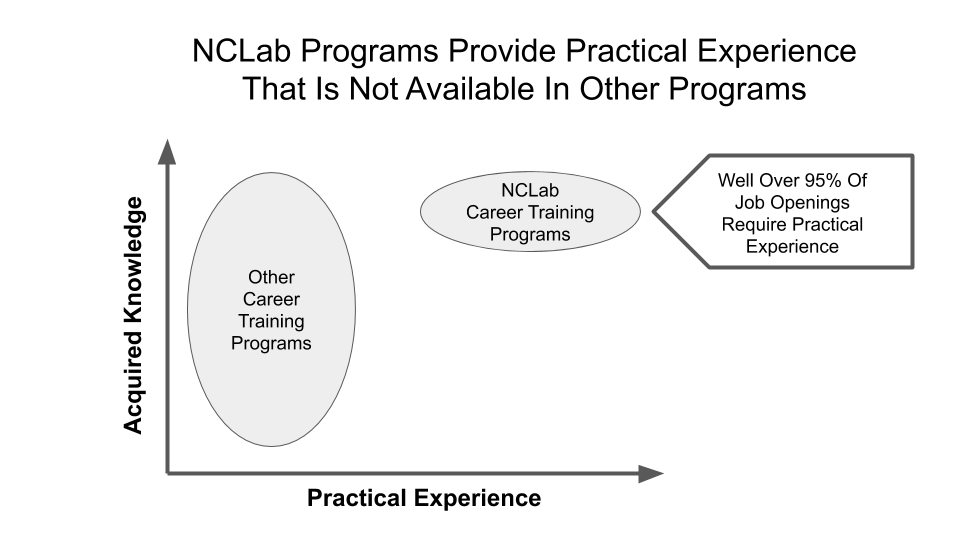 How Tainees Acquire Practical Experience In NCLab Training Programs
NCLab career training programs are built on top of a Learn-By-Doing platform, which makes it possible for trainees to acquire the Practical Experience that they require to qualify for available jobs.
Trainees actively learn by doing rather than passively listen to lectures and watch videos.  They have a feeling of accomplishment as they successfully complete self-assessment exercises, throughout their training. Our surveys show conclusively that trainees love to learn this way.
Following are the key attributes of the NCLab career training programs that are built on top of the learn-by-doing platform:
Bite-Sized Lessons and Immediate Self-Assessment
Short bite-sized lessons are followed by immediate self-assessment exercises, which ensure that trainees get practice using what they have learned before moving on. Success is assured if they are willing to put in the effort to do the required work.
AI-Based Adaptive Feedback
Artificial Intelligence algorithms allow trainees to learn by doing and to see the results of their problem solving on an immediate basis. In much the same way that an in-person instructor can help an individual trainee that is having difficulty with a new concept, these powerful algorithms help trainees with sophisticated adaptive feedback throughout the learning process.
Verified Learning LMS 
A built-in Verified Learning Learning Management System records all trainee learning activities and confirms that trainees have thoroughly learned the subject matter and have gathered sufficient Practical Experience to qualify for job openings. The information that the LMS collects helps support personnel understand where trainees are when they need assistance, and it also helps course developers identify places where the courses can be improved. 
A Creative Suite Where Trainees Create and Share Portfolio Artifacts
Trainees have access to a powerful Creative Suite, where they can create their own portfolio of problem sets and work through them to come up with solutions and save their results for later retrieval and sharing.
Take a Short Tour of NCLab's Learn-By-Doing!
What Our Trainees Say About Us

"Thank you for giving me the competency and confidence that I needed to get a dream job. With my limited formal education, I had serious doubts that I could master SQL and Python but learning by doing worked perfectly." G.K.

"As an adult with a busy schedule and the need to work around banking business hours etc.: this method of teaching is perfect for me and I would recommend it for basically anyone on any subject." F. V.

"I really enjoyed the self-paced format of this training program. The material was presented clearly and concisely and allowed me to focus longer on concepts that were difficult, while glancing over concepts I was already familiar with." A.C.

"This is how I like to learn, at my own pace. I like the bite-sized tutorials and I feel a real sense of accomplishment when I complete the exercises that follow them." M.J.

"I watched videos, read short tutorials, viewed examples, ran demo programs, and then performed exercises that demonstrated my comprehension of the subject matter." S.L.

"Not easy but really informative. Practical experience was what I wanted and I feel that I got it." F. Z.

"I cannot compliment enough any training that involves students actually working on the problems rather than just listening." A. S.

"Please extend my compliments to the NCLab team if you can, and keep advocating for this type of learning, if at the very least as an option for people like me who learn well this way." F. A.

"The emphasis on working at your own pace removes the stress of a normal class, and I can work around my other classes. NCLab is much better than similar programs, such as DataCamp. Not only do I learn the material, I retain it. Each lesson uses all or most of the previous concepts, which provides additional practice and ensures that you don't forget the previous material. This is one of the most enjoyable and informative programs I've taken." N. L.

"It might sound weird, but I feel as though it teaches the right parts for Python. When I was learning Python before, there were a lot of steps that felt skipped but are explained now." P.T.

"I feel like I am learning a skill, much more than I felt in other courses. The use of repetition, doing programming in pieces, and the entire way the platform is laid out are far superior to how my university teaches their main, introductory, programming courses. It is too bad that the philosophy of academia is standing in its own way." K.L.

"I feel like I am actually LEARNING how to program, and the chunking method of the material is wonderful." D.A.

"I am really enjoying this course and learning python and I also like the way that it teaches the material. I'm very glad I took this course!" R. B.

"I really enjoyed and found the Python Fundamentals and Advanced Python courses incredibly useful. In fact, the large amount of Python programming practice questions in both courses helped me obtain my summer software development internship at Pfizer by preparing me for a variety of programming interview questions." F. F.